The Consultation Workshops are now complete. Overall they were well attended by a range of stakeholders, with the majority being from tertiary academic institutions.
The time and expertise volunteered by participants was excellent and greatly appreciated.
Participants really enjoyed the opportunity to discuss learning and teaching standards with colleagues and external stakeholders and the atmosphere was very collegial.
A summary of the outcomes for each workshop can be found below.
Total number of participants: 151
Representing:
Employer / industry groups: 20%
Students: 18%
University staff: 60%
Other educators: 2%
When we investigated what attributes were expected from graduates in the environment and sustainability field, the highest priorities the group highlighted were (in no particular order of priority):
Transdisciplinarity,
Practical experience,
Discipline knowledge,
Communication,
Systems thinking,
Adaptation and change
Critical thinking.
The following word cloud also shows the categories that revealed themselves from all the comments that were made at the workshop.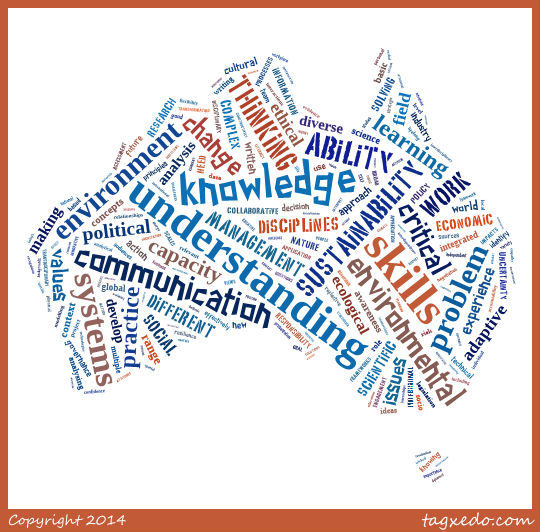 The brief summary presented here is a snapshot from two workshops only and does not reflect the detailed recommendations on how to improve the TLOs. These findings cannot be reliably summarised until all our collaborations with others around Australia are complete.
Stay tuned!